6 Common Questions about Fire Pits
Fire pits are among the most popular backyard living features you'll find today. But, there are many different types and that can lead to a lot of questions. We'll answer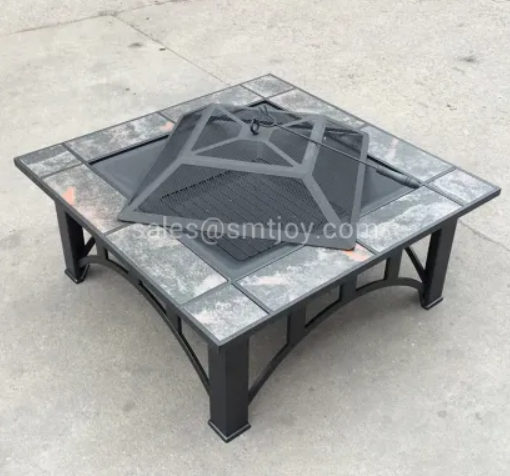 Fire pits are among the most popular backyard living features you'll find today. But, there are many different types and that can lead to a lot of questions. We'll answer some of the most common questions about fire pits, while providing some additional information that will help you plan a great fire feature for your own backyard.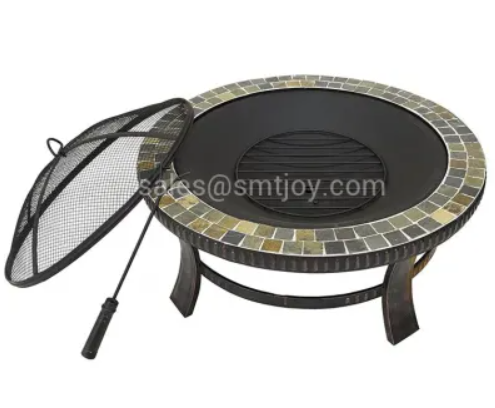 1. Can You Use a Fire Pit on Grass?
Nobody wants to ruin their concrete, stone or paver patio by putting a metal fire pit on it, only to find the heat from the fire causes damage. So the obvious answer when using a portable one is to put it in your yard.
Yes, you are going to end up with dead grass, even though it is unlikely the grass will start on fire. The heat from the fire just a few inches above it is enough to stress and kill patches of grass underneath, even if the temperatures stay low enough that the grass won't catch on fire.
2. Will a Fire Pit Explode or Is It Safe?
There are a lot of variations to this question, but the most commonly asked one is whether there could be an explosion.
The answer is yes, it could explode if the wrong materials were used to build it. Concrete blocks, pea gravel, river rocks and other materials that are often used in DIY fire pits can trap water inside. When they are heated up, this can cause an explosion.
Here's a demonstration of what can happen when the building materials hold a little too much water and pressure builds up inside.
When built correctly, a fire pit is safe to use. Fire brick or a metal pit liner on the inside with interlocking pavers or natural stone on the outside are common solutions. There are also concrete paver kits that are designed to be used as either gas or wood fire pits. Gas or propane fire pits actually burn at lower temperatures than wood, but have the added safety concerns of using gas properly.
When good fire safety is practiced, you can spend many nights enjoying the fire without worrying. Most of the fire pit explosions that you may see on the news are actually from people pouring gasoline or dropping other hazardous materials into the fire.
To add some safety when you are enjoying the warming flames, it is best to have a fire blanket and fire extinguisher nearby just in case something unexpected happens.
3. Will a Fire Feature Damage or Crack Concrete?
If you don't want to destroy your grass or start your deck on fire, the next logical place to look in your outdoor space may be a concrete patio or walkway. While concrete is fire resistant, we covered some of the danger of exposing it to fire in the answer to the first question. Concrete companies tend to agree that continued use of a portable fire pit will eventually lead to concrete damage. Most suggest the same approach as with a deck, which is placing a fire resistant mat underneath.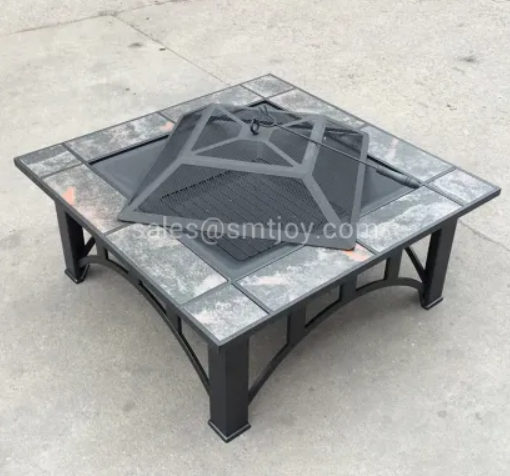 4. Can You Use a Fire Pit on a Deck?
Not a wood burning one. Most propane fire pits can be used on a wood deck. Wood burns at a much higher temperature and creates embers that can catch wood on fire. So using a wood burning bowl on your wooden deck is not a good idea either.
Composite decking can also be damaged by heat. In fact, while Trex marketing material shows fire features, the company states that those are created by cutting the decking out from that area of the deck, rather than setting something on top of it. Additional fireproofing is used to keep the decking from being damaged.
If you want to place a portable fire pit on a deck and it is legal to do so in your area, then the best solution is to use a fire resistant mat underneath. These mats help prevent damage to wood and composite decking.
5. Why Permanently Install a Fire Pit?
A permanent fire pit can be built to consider all the safety factors above as well as other things that will make your outdoor experience better. You'll be able to choose from a variety of looks for the exterior materials, it will last a long time and when done right, it will add value to your home when you go to sell.
Permanent fire features can be fueled by natural gas, which provides a virtually never ending supply of heat and glowing flame to your evening. They can also be designed as wood burning pits.
An advantage to having a permanent fire pit professionally installed is that you can build it around the way you want to use it. And you can make sure it drains when it rains, which doesn't always work out for pre-made bowls and kits.
6. Can you use a Portable Fire Pit on Paver Bricks?
When it comes to patio fire pits, the ideal solution is to have a permanent one built, rather than using a portable one. However, there is no reason you can't use a portable one on top of your paver patio. Pavers are made of concrete though and while they are generally tougher than poured concrete, you might discolor or otherwise damage them with too much heat. To prevent any long-term damage, a fire mat is a good idea if you are going to use a wood fire bowl on your paver patio. It is simply a much cheaper solution than having to repair a damaged patio.
Don't Forget to Enjoy
Whether you end up using a portable fire bowl or a built in fire feature, the most important part is that you get out in the yard and enjoy the outdoor living experience. Curb appeal is one thing, but if your backyard looks great and you don't take advantage, then you are missing out on all the enjoyment of having a fire pit.
So take an evening to sit back and relax, especially when the temperatures have dipped a bit and you'd normally not be outside. The coziness of the warm fire will extend the use of your patio into the late fall and maybe even the winter months.
We are professional manufacture for making outdoor heating: fire pit, wood burning, BBQ Grill and charcoal fire pit, etc. If you are interested in our products, please feel free to contact us!